quilting workshop
For our first workshop, we learned quilting from artist Jim S. Smoote II. The artist provided us with so many different materials and methods to create our vision for the quilt patches. Some of that material provided allowed us to choose the variety of ways in which we could create a quilt. For example, painting something directly to fabric or using stencils to cut out figures on one fabric to glue onto the quilt. One intern embroidered a moon and a Phoenix onto a bleached quilt. With that being said, we all got in touch with our creative juices.
All of the options encouraged a free flow of ideas and a very iterative process of making art. Through different ways of thinking about our quilting patches, there was a clear connection to diversity. As a whole, the patches contributed to a community quilt of healing and remedy. This workshop highlighted the larger themes of self reflection and exploration.
Sculpture Workshop
For the sculpture workshop, we worked with Alfonso "Piloto" Nieves Ruiz, a Chicago based artist whose sculptures reflect on social problems and the lack of spirituality he believes is attributed to consumption. Prior to the workshop, we decided to incorporate a theme to the sculptures we would create with the intention of placing it on display at the African American Cultural Center's library. In order to keep the theme central to remedy we decided that our sculptures would answer the question, "What does wellbeing mean to us?". This allowed us to truly reflect on how wellbeing may look like in our lives and to reveal it through art.
Working with clay was interestingly meditating because we had the freedom to express our creativity. It was not a competition and no one would be judged. It was all about each individual's thoughts and feelings. We learned that everyone sees and interprets things differently. A sculpture looks like a wolf to you could totally look like a dog or a horse to someone else. However, we should not care about what others think and focus on what matters to us. In addition, we learned that if we didn't like how our sculptures looked, we could always start over with a similar or even a brand new idea. There is no attachment; therefore, we should not be afraid of starting over or playing with different ideas.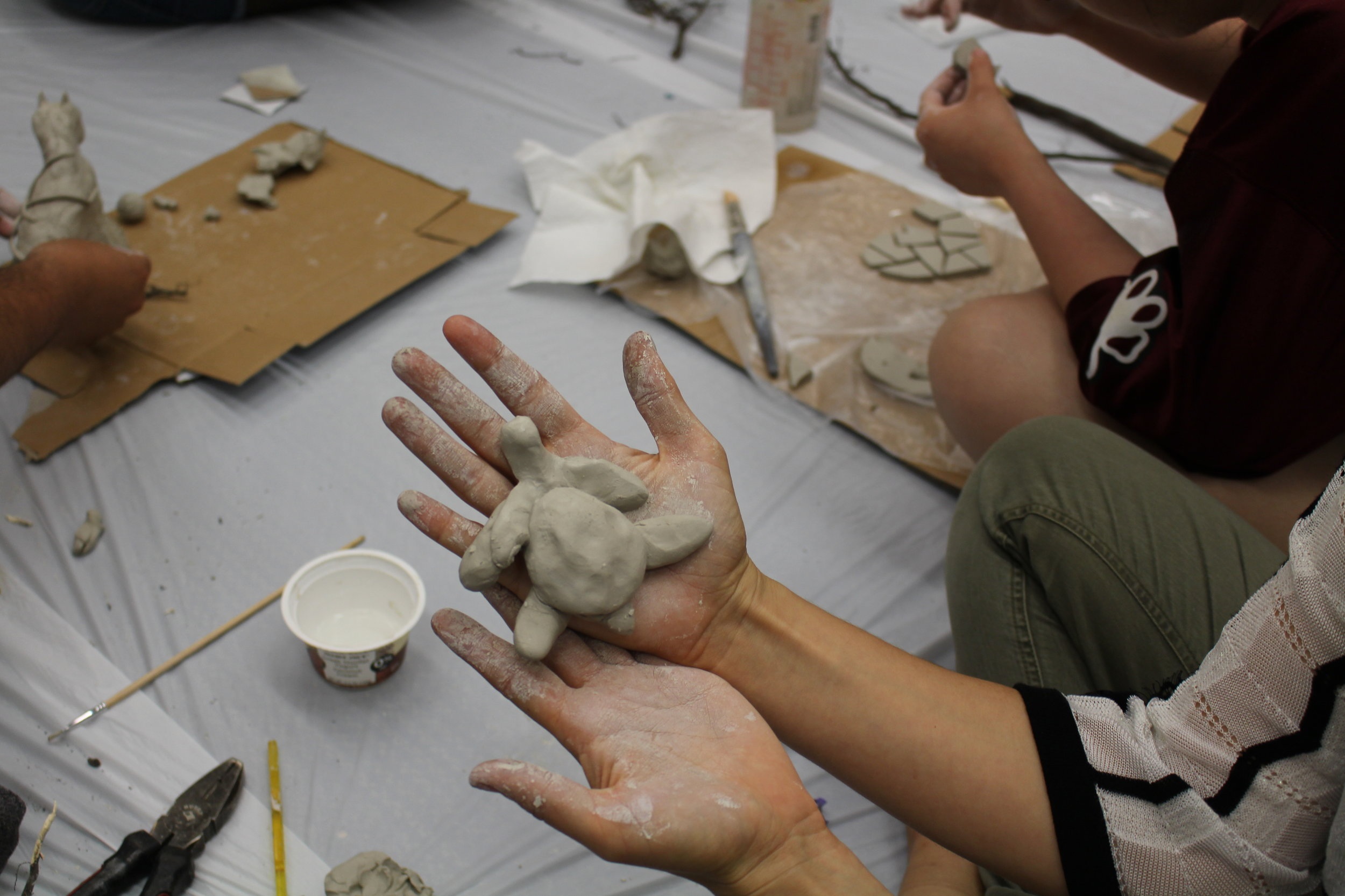 jewelry making workshop
We had the wonderful opportunity to work with local jewelry maker, Edith Tovar. We learned to create earrings, necklaces, bracelets, and keychains with wire working and recycled materials. Edith highlighted how this workshop pushes against our dependence on consumerism and materialism. She explains that fashion is always changing which can cause jewelry to become disposable. Rather than always needing to buy new things in order to "be happy", one can find jewelry others do not want and give it another function. For example, Edith repurposes the jewelry her friends and family give to her because they no longer want it and any jewelry she purchases from thrift stores. She taught us that the beads from a bracelet can be used to make earrings in a variety of ways.
This workshop also emphasized the importance of creative freedom, relaxation, and self care; conceptualizing jewelry making as healing. Jewelry is also a physical art that emphasizes accessorizing and reflecting our own identity and the way we see ourselves. Each piece has a story of healing, remedy, and love for others and ourselves.